TLMusic ... some details
Started in 2006, and based in Bookham, Surrey, TLMusic was founded and run by experienced pianist and musical arranger Trevor Lomas. The original concept was to just produce CD's for tap dancing (the Platinum Tap series), but since its conception, the company has diversified into different areas, and now has a catalogue of backing tracks (Platinum Backing Tracks), while most of its current business comes from the sale of backing tracks specific to masonic functions.
Trevor first had the idea of producing a backing track of the masonic Ladies Song (Here's To Her Health In A Song) when he used to play it for singers at masonic Ladies Night functions during his time in the 7-piece function band 'Aquarius'. Many of the singers used to complain that they were finding it more and more difficult to either find pianists or band keyboard players that could actually play the piece competantly, and frequently venue piano's were not that good. Use of a backing track alleviates these and a whole host of other problems that can all detract from a good vocal performance. TLMusic now have a catalogue of masonic music for use at the Ladies Night, and of late has begun to include music for use at lodge meetings.
For singers and cabaret artists, as an ex gigging musician, Trevor fully understands the necessity of obtaining the best tracks available. With well over 25 years experience as a musical arranger, you can rest assured that a TLMusic custom arrangement will be one of the best in your set. Additionally, any custom arrangements commissioned will not be made available to anybody else.
For dancers, as well as producing the Platinum Tap series for tap and stage choreography, TLMusic arranges and records backing tracks to your specification for use in shows, festivals, examinations etc.
All backing tracks and CD's are produced entirely at the TLMusic studio ... from the musical arranging, recording and copying, to the packaging artwork, design and printing. Keeping the whole process 'in-house' ensures maintainance of the highest possible technical standards. Combined with the use of the latest recording software and the best available musical hardware, the result is backing tracks and CD's of outstanding quality
Trevor Lomas ... about his musical career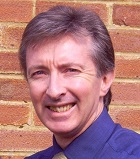 I started learning the piano at the age of 7, taking lessons from jazz pianist Katherine McLaglen. I continued with her until she moved away when I was 11, but in those 4 years, although I didn't know it at the time, she had taught me the foundations of my whole musical career. I remember learning lush arrangements of the standards from the 30's and 4o's, introducing me to the harmonies and styles I use today, stretching my hands into large, wonderful sounding jazz chords. However, she never failed to impress upon me the importance of reading music, and alongside the 'ear' jazz playing, put me through the classical grade exams. I am indebted to 'Mrs Mac' ... she was undoubtedly the biggest influence on my musical life
At 14, I was accompanying dance classes at the weekends, playing for ballet, tap and modern at a local dance school. Tap was always my favourite as I could use my jazz knowledge, and was learning all these tunes from the world of musical theatre, an idium that was to become so important to me later on in my career. I kept that job at the school in Staines, Middx for the next 30 years alongside my 'ordinary' day jobs of, firstly, a bank clerk with the National Westminster Bank, and secondly, a research chemist with the oil company BP.
My love of live performance and interest in music technology led to many years of work in various duo's, and as keyboard player in the 7-piece function band 'Aquarius'. I found early on that I had a talent for musical arranging, and developed this skill writing arrangements for the band. Today, through my music production company TLMusic, I produce custom arrangements and the Platinum Tap series of dance CD's.
Redundancy from BP in 1992 gave me the chance to work as a full time musician, and I joined Elmhurst Ballet School in Camberley, one of the most prestigious theatre schools in the country, as a dance accompanist. I was there for the next 13 years until the school relocated to Birmingham in 2005. A year at Bird College in Sidcup followed. Dance accompaniment has always remained a central activity within my career ... I also worked regularly for the ISTD as an exam accompanist at both the London Headquarters, and at associated schools throughout the UK and in Europe. Health problems led to the end of live playing in 2006, and I now concentrate on teaching keyboard, piano and music theory, and producing arrangements through TLMusic.
---